10 THINGS FOOD COMPANIES DON'T WANT YOU TO KNOW
The giant food corporations have one mission: selling more food and beverage products to consumers. Succeeding with that mission depends on keeping consumers in the dark on certain issues such as the presence of cancer-causing chemicals found in popular food products.
Here are ten things the food corporations, whose products dominate grocery store shelves across the United States and other countries, absolutely do not want you to know.
1. The ingredients listed on the label aren't the only things in the food. Cancer-causing chemicals such as
acrylamides
may be formed in the food during high-heat processing, yet there's no requirement to list them on the label. Residues of solvents, pesticides and other chemicals may also be present, but also do not have to be listed. The National Uniformity for Food Act, currently being debated in the U.S. Congress, would make it illegal (yes, illegal) for states to require cancer warnings on foods that contain cancer-causing chemicals (such as California's Proposition 65.) See articles on the Food Uniformity Act.
2.
Monosodium glutamate (MSG)
, which is added to thousands of food and grocery products through a dozen different innocent-sounding ingredients, imbalances endocrine system function, disabling normal appetite regulation and causing consumers to keep eating more food. This chemical not only contributes to nationwide obesity, it also helps food companies boost repeat business. See articles on MSG.
3. MSG is routinely hidden in foods in these ingredients: yeast extract, torula yeast, hydrolyzed vegetable protein and autolyzed yeast. Thousands of common grocery products contain one or more of these chemical taste enhancers, including nearly all "vegetarian" foods such as veggie burgers (read labels to check). See Food manufacturers hide dangerous ingredients in everyday foods by using confusing terms on the label.
4. ADHD in children is caused almost entirely by the consumption of processed food ingredients such as artificial colors and refined carbohydrates. Eighty percent of so-called ADHD children who are taken off processed foods are cured of ADHD in two weeks. See articles on ADHD.
5. The chemical sweetener
aspartame
, when exposed to warm temperatures for only a few hours, begins to break down into chemicals like formaldehyde and formic acid. Formaldehyde is a potent nerve toxin and causes damage to the eyes, brain and entire nervous system. Aspartame has been strongly linked to migraines, seizures, blurred vision and many other nervous system problems. See articles on aspartame.
READ THE REST OF THIS ARTICLE AT LINK BELOW:
THERE IS NO "SAFETY NET" FOR THE MAJORITY OF AMERICANS

From the Declaration of Independence, where it relates "life" as an inalienable right, it is clear that the founders of the United States of America had a different understanding of the purpose of government than what some Americans, mostly far right politically, have in modern times. At the beginning of the U.S.A. most citizens would have farms or gardens to enable growing their food. However, in the event of a national emergency where there wasn't food or access to food, such as war, weather catastrophe, shortage of jobs, and such the founders of the U.S.A. intended that Americans not go without food. To have life it is required to have adequate air, water, and food.
READ THE REST OF THIS ARTICLE AT LINK BELOW:
THE COMING STARVATION IN AMERICA
The government of the United States, by Law was to always maintain a three year mixed-grain survival storage for every man, woman, and child in the United States.
Like most Laws of the land, the politicians never took heed as to why our wise ancestors had this reserve requirement established. It was to make sure, that, in the time of a National Emergency, the people had the most important mainstay needed for survival individually and as a Nation.
Remember, the people make the Nation, the Nation does not make the people.
In the 1960's and 1970's the different political administrations of Washington, D.C. walked away from sanity and started to give the surplus grains which where in elevator storage all over the country, to other nations, such as the Soviet Union, India, etc... This continued over two decades, until the elevators were empty and the reserve of grains that were in reserve as per a national crisis....were gone.
-SNIP-
By 1996, the United States Department of Agriculture (U.S.D.A.) claimed that there was enough food in ware-house storage to last every man, woman and child in the cities a 3 day supply and a 5 day supply for every man, woman, and child in the countryside, should a great national emergency occur. In other words, if food trucks stopped running, the food supplies for the masses would be 3 days in the cities and 5 days in the countryside.
READ THE REST OF THIS ARTICLE AT LINK BELOW:
---
Solutions for YOUR Future!


Following Specialized Publications and Programs are for
Medical Practioners, Health Care Providers & Families.
The ASH Program Will Change the Way You
Think About Health and Disease FOREVER!
The Advanced Scientific Health (ASH) program have been prepared for all those ready to learn.
A complete program is available for easy application of this new found knowledge.
You will have access to the works of the Nobel Laureates from their study and findings in Whole Body Health at the Cellular Level.
Learn WHAT to give back to the body that it was intended to have, in the correct form & the proper ratio.
Learning and Applying this knowledge will give you the proof.
The Natural Cure for Disease IS the Human Body Itself.
These resources are Now Available for Medical Professionals & Families.
Experience IS the Evidence!




NATURAL, SIMPLE, SAFE,
EFFECTIVE AND AFFORDABLE





COMPLETE EDUCATION PROGRAM
SPECIALIZED RESEARCH SUPPLIES
OPTION PLANS ARE AVAILABLE




---





"What Doctors Do NOT Know"


---

DISEASE-FREE LIVING FOR LIFE?
"Ask Insider Doctors and Scientists"

CLICK HERE FOR PREVIEW!
Better Health Manual

---
---
Your OWN
Food Supply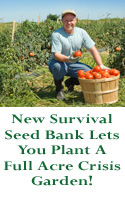 CLICKHERE
---